fMRI Design and Analysis - NYC
fMRI Design and Analysis is a 5-day workshop designed for investigators having familiarity with the basic fundamental principles of fMRI measurement and design, with some experience in functional neuroimaging data acquisition and analysis. The first 4 days of class will be held at NYSPI and the last day of material will be given in a series of 2 hour on-line interactive sessions given over the following month. T32 fellows and K awardees in the Department of Psychiatry will be given priority for registration.
As mastery of the topics presented early in the week is needed to maximally benefit from the material presented later in the week, we encourage all participants to arrange their schedules to make it possible to attend all the classes. In addition, please reserve 1-2 hours each evening to complete the homework assignments.
As the presentations will include demonstrations and tutorials utilizing SPM12, participants are expected to bring a laptop with MATLAB, SPM12, CAT12 and MRIcron already installed. Detailed setup instructions can be found here.


---
The course will be held at the New York State Psychiatric Institute from December 11-14, 2017 in Room 6602 of the Pardes Building and is sponsored by MRI Research Program.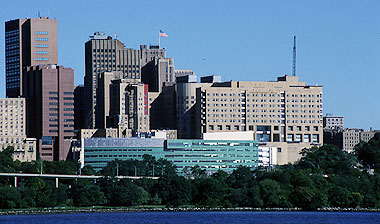 Pardes Building
New York State Psychiatric Institute
1051 Riverside Drive
New York City


The fee for the program is $1500 or $1250 for post-doctoral fellows, and $1000 for undergraduate, graduate or medical students. The MRI unit will supplement $600 towards this fee for recent MRI pilot awardees. For information regarding supplemental support, please contact Joe Figliolia (Joe.Figliolia@nyspi.columbia.edu) or Dr. Rachel Marsh (Rachel.Marsh@nyspi.columbia.edu)


Lectures will be given by Tom Zeffiro
Registration information for this program may be found here.
Payment can be made using PAYPAL here.
The course is organized by Tom Zeffiro. To maintain a high degree of student/faculty interaction, the enrollment will be capped at 25 participants.
Questions about the course content should be directed to spmbasics@neurometrika.org
---
Workshop Topics

Process automation using batch processing in SPM

Conventional fMRI data acquisition optimization

Computational anatomy using CAT12

Special considerations when collecting multiband EPI data

Geometric distortion correction using field mapsPhysiological denoising techniques

-Control of physiological/movement confounds using CompCor

-Artifact detection and elimination using the ART Toolbox

First level modeling for task designs

First level modeling for resting state MRI Using the CONN Toolbox

-Seed-based correlation

-Independent component analysis

First level modeling of psychophysiological interactions

Second level modeling from basic to complex

-Regression review

-Categorical predictors

-Continuous predictors

-Covariates

-Repeated measures models

-Mixed within and between factor designs

-Longitudinal models

-Hierarchical linear models

Inference and critical threshold determination - recent controversies and their resolution

Classical and Bayesian inference
Visualization

Anatomical labeling using atlases
Sample size estimation for neuroimaging studies
Guidelines for reporting fMRI results

Addressing rigor and reproducibility in grant applications
CAT12: The Computerized Anatomy Toolbox is an SPM extension providing additional computational anatomy features. This covers diverse morphometric methods such as voxel-based morphometry, surface-based morphometry, deformation-based morphometry, and region- or label-based morphometry.
CONN: The Connectivity Toolbox is an SPM toolbox designed for the computation, display, and analysis of functional connectivity measures in fMRI data. Connectivity measures available in CONN include seed-to-voxel connectivity maps, ROI-to-ROI connectivity matrices, graph properties of connectivity networks, and voxel-to-voxel measures, including intrinsic connectivity, local correlation maps, and others. CONN can be used to model data from both resting state fMRI and task-related designs.
---
Educational Objectives
Understand the basic organization of the SPM and Connectivity Toolbox GUIs

Understand the organization of the SPM "toolbox"

Be able to construct batch processing scripts for preprocessing and statistical modeling

Understand the basic fMRI data preprocessing steps

Be able to construct a preprocessing sequence including slice time correction, realignment, and spatial filtering using SPM

Understand the origins of the artifacts most commonly encountered in fMRI datasets

Be able to utilize explore an fMRI dataset for artifacts and effect repairs as needed

Understand the basic fMRI single subject experimental design types

Be able to implement statistical analysis procedures for the basic single subject fMRI designs in SPM and FSL

Understand the basic fMRI single group experimental design types

Be able to implement statistical analysis procedures for the basic single group fMRI designs in SPM

Understand the basic fMRI multiple group experimental design types

Be able to implement statistical analysis procedures for the basic multiple group fMRI designs in SPM and the Connectivity Toolbox

Understand the process of incorporation of covariates in fMRI experimental designs

Be able to construct and estimate statistical models involving covariates in SPM

Be able to utilize SPM12 for region labeling

Be able to utilize the SPM Anatomy toolbox for region labeling

Be able to utilize CAT12 for region labeling

Be able to export SPM statistical maps to FreeSurfer to visualize results on the cortical surface

Be able to use MRIcron for visualization, including volume rendering

Be able to use xjView for visualization and labeling
---
Schedule


forthcoming
---
Day 1
Day 2
Day 3
Day 4
Day 5
---
LECTURE SLIDES


---
forthcoming
---

Topics
---
PREVIOUS LECTURE SLIDES


---
Optimizing fMRI Acquisition: Spatial
Optimizing fMRI Acquisition: Temporal