Basic fMRI Design and Analysis Using SPM
Basic fMRI Design and Analysis Using SPM is a 4-day workshop designed for investigators having familiarity with the fundamental principles of fMRI measurement and design, with some experience in functional neuroimaging data acquisition and analysis.
The strongly interactive workshop will focus on using SPM12 and its extensions for preprocessing, statistical modeling and visualization of data associated with a range of basic and clinical fMRI experimental designs. The fundamentals of analyzing both task-related and resting state data will be covered. While the primary emphasis will involve using the core SPM12 programs for these purposes, there will also be extensive discussion of a variety of software tools that extend the power of SPM12. Some of these tools facilitate fMRI quality assurance through artifact detection and mitigation at various analysis stages. Other tools support a variety of data visualization methods, including MRIcron, xjView, FSLview, and FreeSurfer.
This course will be of interest to investigators who have had some experience with previous versions of SPM and are seeking an update covering the new features included in SPM12.
As the presentations will include demonstrations and tutorials utilizing SPM12, participants are expected to bring a laptop with MATLAB, SPM12b and MRIcron already installed. Detailed setup instructions can be found here.
---
The workshop will be held from Sunday November 9 - Wednesday November 12, 2014, immediately before the Annual Meeting of the Society for Neuroscience.
Registration information for this program may be found here.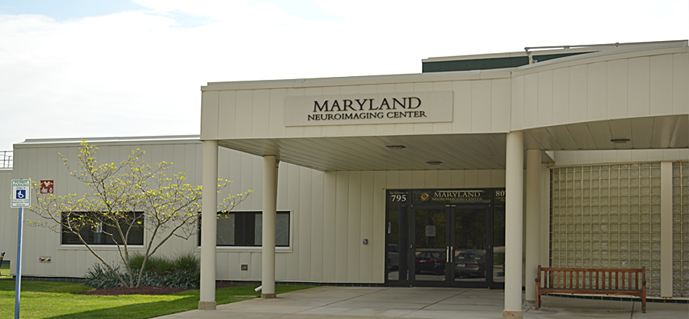 Payment may be made here.
The course is sponsored by the University of Maryland and the Maryland Neuroimaging Center., located at 8077 Greenmead Drive, College Park, MD.
The fee for the program is $1200. Reduced rates of $1000 for post-doctoral fellows and $800 for undergraduate, graduate or medical students are available.
Accommodations: There are hotels available nearby.
Directions: For participants planning to stay in Washington, the University of Maryland campus is accessible using either taxi or two buses that run to and from a Washington Metrorail station in College Park. From the station, either take a taxi directly to the MNC, or a bus first to Regents Park Garage and then another to the Courtyards stop. The MNC is a short walk from the Courtyards stop. The Courtyards bus service only runs Monday-Friday, so you will have to take a taxi from Regents Park Garage on Sunday.
If you are coming by automobile, there is free parking available at the MNC.
Questions about the course should be directed to spmbasics@neurometrika.org
Lectures will be given by Tom Zeffiro.
---
Educational Objectives
Understand the basic organization of the SPM GUI
Understand the organization of the SPM "toolbox"
Be able to construct batch processing scripts for preprocessing and statistical modeling
Understand the basic fMRI data preprocessing steps
Be able to construct a preprocessing sequence including slice time correction, realignment, and spatial filtering
Understand the origins of the artifacts most commonly encountered in fMRI datasets
Be able to utilize explore an fMRI dataset for artifacts and effect repairs as needed
Understand the basic fMRI single subject experimental design types
Be able to implement statistical analysis procedures for the basic single subject fMRI designs
Understand the basic fMRI single group experimental design types
Be able to implement statistical analysis procedures for the basic single group fMRI designs
Understand the basic fMRI multiple group experimental design types
Be able to implement statistical analysis procedures for the basic multiple group fMRI designs
Understand the process of incorporation of covariates in fMRI experimental designs
Be able to construct and estimate statistical models involving covariates
Be able to utilize the RIC Talairach Daemon for region labeling
Be able to utilize the SPM Anatomy toolbox for region labeling
Be able to use MRIcron for visualization, including volume rendering
Be able to use xjView for visualization and labeling
---
Schedule

---
---
Sunday Day 1
9:00AM-9:30AM Workshop introduction
9:30AM-12:00PM Overview of single subject preprocessing and statistical modeling
Preprocessing

Spatial normalization

Model specification: epoch and event-related designs

Model estimation

Inference

Structure/function visualization
12:00PM-1:00PM LUNCH
1:00PM-3:00PM SPM introduction
SPM architecture

The MATLAB environment

SPM toolboxes

SPM GUI

SPM statistical modeling introduction: The GLM

SPM Visualization

New features in SPM12
3:00PM-4:30PM Preprocessing in detail
Realignment

Slice timing correction

Spatial filtering
4:30PM-5:00PM Review and questions
5:00PM-5:30PM Homework introduction: Block design single subject analysis tutorial
---
Monday Day 2
9:00AM-9:30AM Homework review
9:30AM-12:00PM Preprocessing in detail continued
Geometric distortion correction using field maps

Spatial normalization

Outlier detection

Automating preprocessing
12:00PM-1:00PM LUNCH
1:00AM-2:30PM First-level design
Experimental task design in fMRI

First-level design theory

Temporal filtering

Task-related, resting state and psychophysiological interaction modeling

First-level design demonstrations

Covariates in first-level designs
2:30PM-4:30PM First-level estimation and inference
First-level estimation

First-level design demonstrations

First-level contrast specification

First-level inference - critical thresholds
4:30PM-5:00PM Review and questions
5:00PM-5:30PM Homework introduction: Event-related design single subject analysis tutorial
---
Tuesday Day 3
9:00AM-9:30AM Homework review
9:30-10:00AM Artifact mitigation
Detection and repair of EPI artifacts

ART demonstration
10:00AM-12:00PM Single group second-level design and estimation
Statistical modeling: summary statistics vs mixed modeling

Statistical modeling: dependence among factor levels

Statistical modeling: repeated measures

Single group second-level designs

Single sample t-test

Paired t-test

ANOVA – within subject factors

Multiple regression

ANCOVA – within subject factors with covariates

Second-level contrast specification for single groups
12:00PM-1:00PM LUNCH
1:00-3:00PM Multiple group second-level design and estimation
Multiple group second-level designs

Two sample t-test

ANOVA between subject factor

ANOVA between and within subject factor

Multiple regression

Second-level contrast specification for multiple groups

Covariates in multiple group second-level design
3:00-4:00PM Visualization and anatomical labeling
4:00-5:00PM Review and Questions
---
Wednesday Day 4
9:00AM-9:30AM Homework review
9:30-11:00AM Optimal acquisition of fMRI data
Spatial considerations

Temporal considerations

Newer EPI techniques – multiband and multiplex acquisition
11:00AM-12:00PM Psychophysiological recording and analysis techniques
Respiration

Cardiac activity

Skin conductance
12:00PM-1:00PM LUNCH
1:00-5:00PM Data acquisition laboratory
Structural acquisition

Diffusion tensor imaging

Task-related EPI

Resting state EPI
4:00-5:00PM Review and Questions
---
---
LECTURE SLIDES

---
---

Topics