Brain Connectivity Methods - Philadelphia
Brain Connectivity Methods is a highly interactive and intensive workshop designed for investigators having familiarity with the basic principles of fMRI data acquisition, statistical analysis using the general linear model, and some practical experience using SPM for fMRI analysis.It will be held MAR 7-10, 2017 at Temple University in Philadelphia, PA and will include subsequent online interactive sessions.
The course will feature presentations from experts in the use of SPM12, CONN: The Connectivity Toolbox and the HCP Connectome Workbench. It will provide an introduction to functional brain connectivity analysis using these programs along with practical demonstrations and exercises tied to the key conceptual issues. Topics covered will include functional brain connectivity examined using bivariate correlation or regression, independent component analysis, and graph theory. The principal focus of the course is mastery of the essential skills needed for using functional connectivity analysis techniques to analyze resting state fMRI data.

Other workshop highlights include:
Process automation using batch processing in SPM12/CONN and the Connectome Workbench
fMRI data acquisition optimization
Special considerations when collecting multiband EPI data
Geometric distortion correction
Physiological denoising techniques
-Control of physiological/movement confounds using CompCor
-Artifact detection and elimination using the ART Toolbox
Participant Preparation: The workshop will involve demonstrations and interactive exercises involving SPM12/CONN Toolbox and the HCP Connectome Workbench, their extensions and associated programs. These demonstrations will be integrated with the didactic portions of the lectures.
The interactive software exercises will demonstrate the details of the various data modeling techniques. Participants will gain practical experience through the worked examples based on resting state data provided at the course. Therefore, to gain the full benefit from the program, we ask that participants bring laptops with SPM12/CONN and the Connectome Workbench installed. Detailed setup instructions can be found here.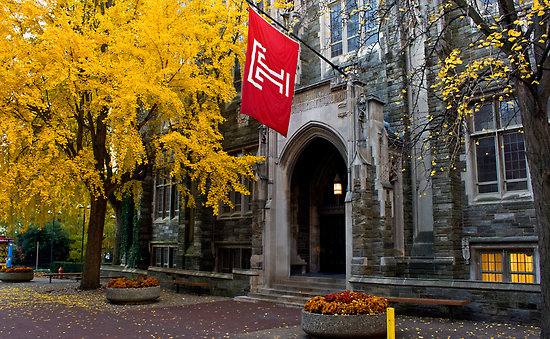 As mastery of the topics presented early in the week is needed to maximally benefit from the material presented later in the week, we encourage all participants to arrange their schedules to make it possible to attend all the classes.
Approximately one month after the course we will arrange on-line review sessions so that participants will be able to ask questions that may arise as they gain experience with the software.
To allow a high degree of student-faculty interaction, the class will be limited to 25 participants. Subsequent interactive on-line sessions held after the class will allow students to continue developing proficiency in connectivity analysis.
---
Registration information for this program may be found here
Payment of the registration fee ($1500-regular, $1250-fellow, and $1000-student) may be made with PAYPAL here.
The course will be held March 7-10, 2018 at Temple University in Wachman Hall Room 108.
Accommodations: There are rooms available on campus at the Conwell Inn.
Questions about the course content should be directed to spmbasics@neurometrika.org
Lectures will be given by Tom Zeffiro, with guest lectures by other instructors.
---
Educational Objectives
Understand the basic organization of the SPM GUI
Understand the organization of the CONN Toolbox
Understand the organization of the HCP Connectome Workbench
Be able to construct batch processing scripts for preprocessing and statistical modeling
Understand the basic fMRI data preprocessing steps
Be able to construct a preprocessing sequence including slice time correction, realignment, and spatial filtering
Understand the origins of the artifacts most commonly encountered in fMRI datasets
Be able to utilize explore an fMRI dataset for artifacts and effect repairs as needed
Understand the basic fMRI resting state experimental design types
Be able to implement statistical analysis procedures for the basic single subject fMRI rsting state designs
Understand the basic single group design types
Be able to implement statistical analysis procedures for the basic single group designs
Understand the basic multiple group design types
Be able to implement statistical analysis procedures for the basic multiple group designs
Understand the process of incorporation of covariates in experimental designs
Be able to construct and estimate statistical models involving covariates
Be able to utilize the SPM Anatomy toolbox for region labeling
Be able to use MRIcron for visualization, including volume rendering
Be able to use xjView for visualization and labeling
Understand the basics of graph theory
---
Tentative Schedule
---
Day 1
Background to network analysis
10:00AM-12:00PM
Introduction
SPM12 overview
fMRI analysis overview: modeling, estimation and inference
Preprocessing review
Single subject analysis demonstration
12:00PM-1:00PM Lunch
1:00PM-2PM
Introduction to the CONN Toolbox
2:00PM-3:00PM
Introduction to the HCP Connectome Workbench
3:00PM-5:00PM
Network analysis overview: Part I
Group models: Repeated measures and contrasts
Homework: SPM analysis of auditory data
Day 2

Functional connectivity analysis
9:00AM-10:00PM
Homework review: SPM auditory example
10:00AM-11:00AM
Functional connectivity overview: Part 2
11:00PM-12:00PM
CONN Toolbox processing steps

Setup
Preprocessing
First level analysis
12:00AM-1:00PM Lunch
1:00PM-2:00 PM
Connectome Workbench processing steps
Setup
Preprocessing
First level analysis
2:00-4:00PM
Quality assurance in functional connectivity analysis
Outlier detection and mitigation using ART
The functional connectivity toolbox manual can be found here.
Homework:
Here is a single-subject analysis exercise.
Homework assignment group analysis (NYU data set)
Day 3
Functional connectivity analysis
9:00AM-10:00PM
Homework Review: Single-subject functional connectivity analysis homework
10:00AM-12:00PM
Using the CONN Toolbox for group analysis
Group analysis demonstration
CONN Toolbox group analysis practice session
12:00PM-1:00PM Lunch
1:00PM-3:00PM
Using the Connectome Workbench for group analysis
Group analysis demonstration
Connectome Workbench group analysis practice session
3:00PM-4:00PM
Specifying and interpreting covariates
Graph theory
Here are some example connectivity toolbox batch files:
complete batch file - setup - preprocessing - analyses - results
Day 4 
Functional connectivity analysis
9:00AM-10:00PM
Homework review: group connectivity analysis
10:00AM-12:00PM
12:00PM-1:00PM Lunch
1:00PM-3:00PM
Optimal fMRI Data Acquisition
3:00PM-4:00PM
Homework: TBD
---
LECTURE SLIDES

Topics